BADGE LE#2
The badge is die struck from steel dies in 102" solid brass, gold-plated, and finished with red, white and blue colors. Badge measures 3" in height. All badges will be numbered on the back, in the order they are produced.
Personalize your badge to show rank, title, or department ("POLICE" shown on art as example) and your state's 2 letter abbreviation ("NY" shown on art as example).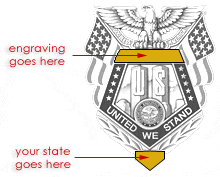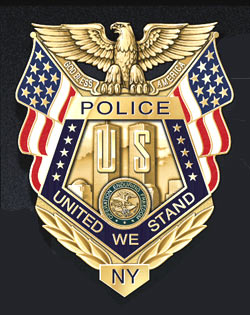 BADGE LE#2
(limited number available)
© Copyright 2001 Collinson Enterprises
PROPRIETARY DATA:
It is illegal to reproduce any of the designs pictured on this website. All designs are protected by copyright.
NOTE: A portion of the proceeds from sale of this badge benefit the families of fallen officers.