Already know what you want?

to fill out our brief form. We'll get back to you right away with a price quote.


Originality


Unmatched Quality


Personable Service


Competitive Prices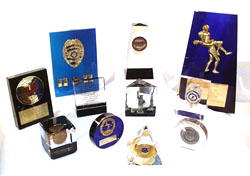 Looking for a way to protect and display
a badge or other cherished medallion?
Our crystal-clear Lucite embedments are the perfect solution. Shown here are just a few of the many shapes, sizes, and colors you can choose from. On request, we'll enhance your memento with an engraved, embedded acetate inscription of your choice -- such as a name and date or other description.
Before and After

before Lucite embedment

after Lucite embedment

U.S. Border Patrol Badge embedded in Lucite
Lucite embedments are always in high demand. At this time, we can embed only items originally made by Collinson Enterprises.