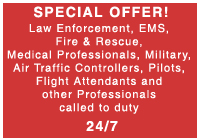 Already know what you want?

to fill out our brief form. We'll get back to you right away with a price quote.


Originality


Unmatched Quality


Personable Service


Competitive Prices
Stock Badges and Other Stock Items > Series 100 Badges > Series 100: Badge C-100E (Shell Back)


Series 100:
Badge C-100E (Shell Back)

$65.88
NOTE: RESTRICTED PURCHASE. Law Enforcement and Public Safety badge orders require verification of employment and an official address for delivery and distribution. After placing your order, please send your verification and your address information either by fax — to (410)451-7292 — or by email to verification@collinsonenterprises.com. Please be sure to include your order number.