This beautiful Army CID ring is custom made to order exclusively from Collinson Enterprises, made in U.S.A. The detail is exquisite, featuring the CID badge on top of the ring, the USACIDC seal with crossed pistols on one side and the CID shoulder patch detail and the motto "Do What Has To Be Done" on the other side. The ring is available in both male and female sizes. Your initials or full name (up to 22 characters) can be engraved inside the band at no extra charge.
Made in U.S.A., every ring is custom made to order and takes approximately 4 to 6 weeks.
U.S. Army CID ring
Dark or natural finish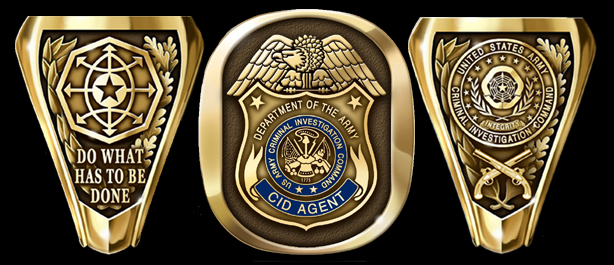 U.S. Army CID ring
Dark or natural finish
with blue enamel on badge
The Jewelers Stainless looks like white gold and is very durable for everyday wear. Or consider sterling silver, the queen of metals. Sterling is a softer metal than karat gold but is much more affordable than gold. The sterling ring can be gold plated to look like the karat gold ring for a fraction of the price of the karat gold.
RING FINISH. Dark finish has an applied lacquer to the recessed details which is baked on for durability and enhances the details with the raised polished metal detail contrasted with the dark lacquer. The dark finish is a traditional ring finish that many may recall your school ring having and as shown on the Army CID ring photo below.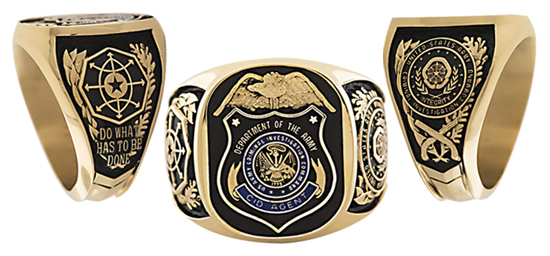 U.S. Army CID ring with dark finish
Natural finish has no applied lacquer. The rings are sandblasted to give a matte finish to the recessed detail which has a more subtle contrast with the raised polished metal details as shown on the FBI ring photo below.

example of a ring with natural finish
(the ring in the picture is not the U.S. Army CID ring)
The finish is purely an individual preference. There is no difference in price between dark and natural. If you later decided to change the finish on your ring, this can be done but incures a $50.00 charge to go from dark to natural and $40.00 to go from natural to dark. Going from dark to natural is more labor intensive and sometimes is not 100% effective in removing all the baked on lacquer.