For the many Members who proudly served aboard the USS RANGER, an exclusive custom ring is now available to commemorate your service. The ring features a number of details significant to the USS RANGER and includes a navy blue stone decorated with Navy crest.
The intention when designing this ring was to create an exceptional commemorative comparable to a United States Naval Academy ring. Artisans who have created previous Naval Academy ring designs lent their expertise to the USS RANGER ring project and came up with a masterpiece that every member will be proud to wear.
The years of service you personally gave the USS RANGER will be engraved on the side of your ring. Your initials will be engraved inside the band, or for a small additional cost you may have your full name engraved inside the ring.
Each ring is custom made to order and takes approximately six weeks to manufacture.
Jeweler's Stainless Steel with dark finish
and commissioned stone mounting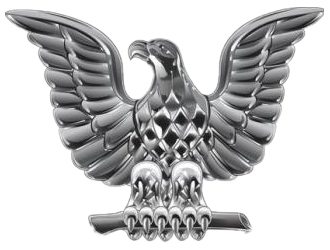 non-commissioned stone mounting